Ford Earns Time's 100 Best Invention of 2021
Apr 05, 2022 - 3 minute read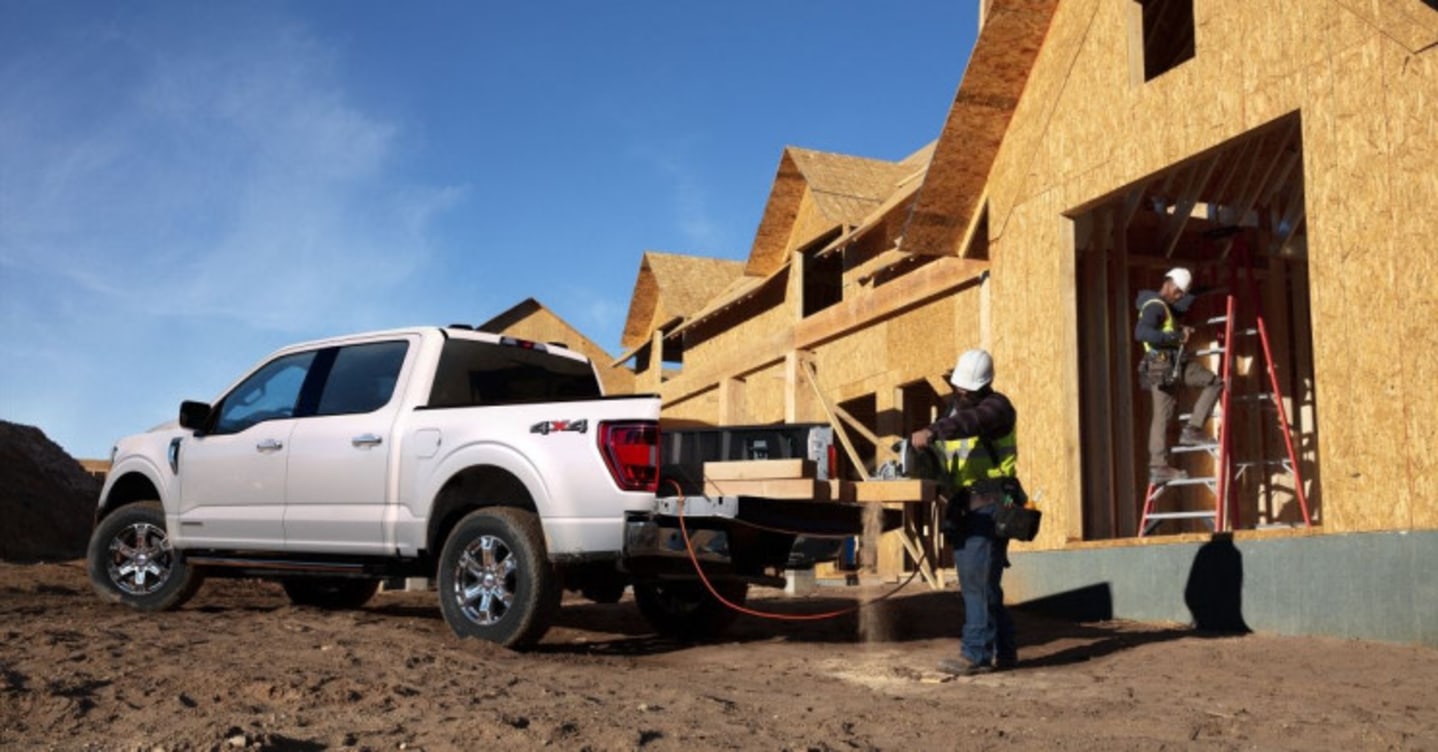 Combining style, science and economics, Ford has had a record-breaking year. The accolades have proven being the best is not simply in one category or limited to one audience. Ford has been recognized on numerous occasions for its innovation in recent months, with its Pro Power Onboard generator landing a spot on Time's 100 best inventions of 2021 list, the 2022 Ford F-150 Lightning landing on Popular Science's Top 100 New Technologies of 2021 list, the 2022 Ford Maverick winning 2022 North American Truck of the Year, and the automaker itself making the 2022 JUST 100 list. Now, Ford Motor Company has also landed on Fast Company's 2022 Most Innovative Companies in Design list, coming in at number two, just behind design platform Canva. Thanks to Ford Authority for compiling this inclusive list of accomplishments.
 "This is a moment," Fast Company said. "This is just the sort of advanced, vehicle-to-grid power-sharing technology that researchers at UCLA proved out years ago, and nearly everyone in the energy industry agrees is needed to balance power loads," judges added. "But Ford is the first manufacturer bold enough to ship the option."
Nik Popli from Time's 100 best inventions list stated, "Big trucks love to flaunt their capabilities. But the new Ford F-150 makes a claim you don't hear too often: it will power your house. Beyond its payload and towing capabilities, the truck's hybrid and electric models feature an optional Pro Power Onboard system that transforms the vehicle into a full-on generator able to supply up to 9.6 kilowatts of power—enough juice to run a typical home for three days, according to Ford.  The system came in handy for F-150 owners when millions of people were left without heat and electricity following the major storm in Texas last winter and Hurricane Ida earlier this year. "Entire cities were going dark, and our customers could turn their trucks into generators," says Michael Levine, Ford's director of North America product communications. The electric model currently has 150,000 preorder reservations ahead of its spring delivery."
The impressive list of top accolades ranges from scientific to economic. The CNBC JUST list, "are the 100 top-performing companies across all industries for 2022, and evaluated across a wide range of metrics, including efforts to combat climate change; diversity, equity and inclusion; worker wellness and local job creation; and customer privacy." JUST Capital asked a representative sample of 3,000 Americans to compare 20 different business issues on a head-to-head basis, producing a reliable hierarchy of Issues ranked in order of priority. Then assigning each Issue to the stakeholder – either Workers, Customers, Communities, the Environment, or Shareholders & Governance – it most impacts." Therefore earning this reputable Top 100 list and recognizing the responsibility it comes with shareholders. Despite recent sales impacted by the chip shortage, Andrew Frick, VP, Ford Sales, Distribution, and Trucks, said, "While the global semiconductor chip shortage continues to create challenges, we saw improvement in March sales, as in-transit inventory improved 74 percent over February. Ford is ready to deliver and positioned well for spring sales growth." 
The all-new Ford Maverick compact pickup truck has been named 2022 North American Truck of the Year — a strong follow-up for Ford, which earned the same title in 2021 with the F-150 full-size pickup. The introduction of a brand-new truck is a big deal for the Detroit automaker, and the Maverick is unlike anything the company has ever built. Ford engineers and designers plumbed their extensive truck knowledge and applied it to an entry-level unibody pickup. The result is impressive enough to win over the jury, garnering enough votes to come out ahead of two other worthy Truck of the Year finalists.
Contact J.C. Lewis Ford today to experience firsthand the stylish, financial, and scientific award-winning best, 912.226.0360.