Ford vs Everyone
Oct 19, 2022 - 2 minute read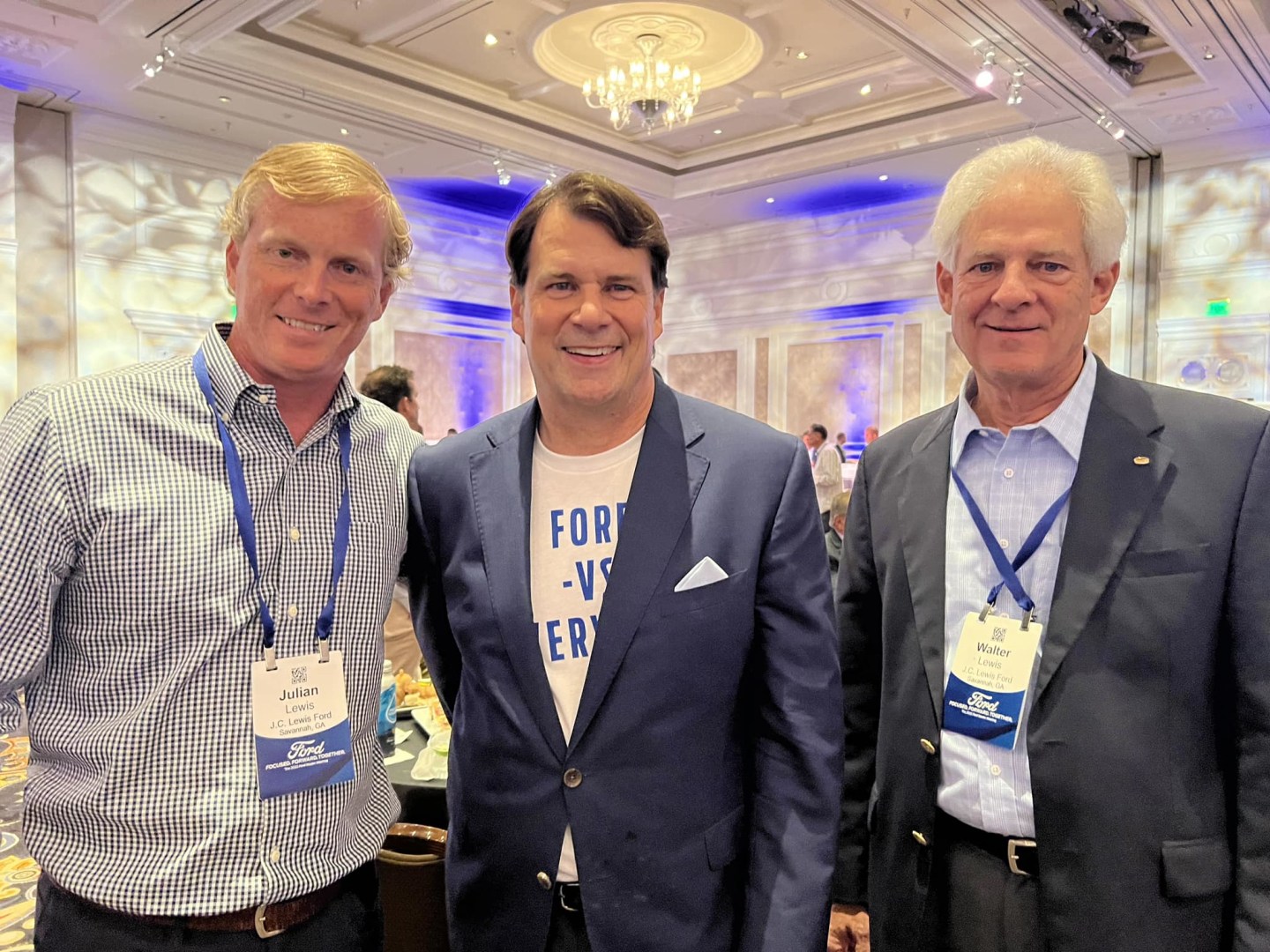 We attended the 2022 Ford Dealer Meeting in Las Vegas. Ford CEO, Jim Farley had on a t-shirt that read, "Ford vs. Everyone." Based on our own family knowledge and dealership history we knew this was an original Ford racing slogan, but we decided to research and do our part to educate "everyone."
First, we found an article written by Don Sherman in 2020. "The Chevy-versus-Ford rivalry that began in 1905 quickly achieved immortal status. Today, there is no greater battle throughout the car business and motorsports. Honing their products to win has elevated both brands to the auto industry's highest plateau." Ford vs. Everyone (including Chevrolet) at the dawn of American car making. However, we knew Ford vs Everyone in the article name did not originate from Sherman.
Well Ford vs. Ferrari certainly brought the phrase back to center stage. "Ford didn't just defeat Ferrari at Le Mans in 1966, it humiliated the Italian stallions. While Ferrari didn't even have a car that completed the race, GT40 Mk. II's captured first, second and third places. The finish wasn't without controversy. Late in the race, Miles was well ahead of the competition, on his way to ending Ferrari's dominance at Le Mans and becoming the only driver to win the world's three biggest endurance race—the 24 hours of Daytona, 12 Hours of Sebring and 24 Hours of Le Mans—in the same year." Chuck Tannert of Forbes calls "Ford vs. Ferrari, The Most Bitter Rivalry In Auto Racing."
Rivalry against Chevy, rivalry against Ferrari. It seems the meaning of the phrase is becoming clear.
In a recent interview about the new 2024 Mustang Dark Horse by Michael Wayland for CNBC, Jim Farley answers the question himself, "Farley, meanwhile, said he wants to grow its traditional business through "opinionated products" that draw debate and attention like the 2024 Mustang, including the new "Dark Horse" variant.
"I had a shirt at the dealer show that said 'Ford vs. Everyone.' That's kind of our attitude," Farley said. "We want to be a dark horse. We're a dark horse against Tesla in the EV business. We want to bring a new game."
Chevy, Ferrari now Tesla. Ford vs. Anyone. Ford vs. Everyone. It is as Farley says, "an attitude." And we get it. Pass it on, tell your friends, the tone is set. Do NOT underestimate Ford. What may have begun as a rivalry or competitive edge has become a Ford philosophy, "Ford vs. Everyone."
Contact J.C. Lewis Ford your Ford expert today. Since 1912, J.C. Lewis has been your selling and serving Ford's in Savannah and the surrounding areas, (912) 210-5677.